Noise Barriers – Sound Barriers – Noise Reduction.
Sound Barriers Noise Reduction. Noise barriers are used to effectively reduce noise transfer and address flanking between acoustically sensitive areas. Addressing noise transmission between rooms improves privacy, comfort and confidentiality. Our noise barrier range can control external noise interference from aircraft, traffic, rain and construction sites.
QuietWave acoustic plasterboard barrier
QuietWave® acoustic plasterboard barrier is the most economic 6-star acoustic wall system available. The thinnest and lightest way to achieve the highest acoustic performance, QuietWave® is a class above minimum BCA requirements.
QuietWave® noise barrier isolates noise and dampens sound vibration increasing the sound transmission loss. QuietWave® viscoelastic noise barrier parallels the theoretical performance of the ideal limp mass barrier. The development of QuietWave® noise barrier has been achieved with a matching acoustic performance of R1,cw 27 for the 2.5kg/m2 QuietWave® has been certified by the CSIRO Division of Materials Science and Engineering as Group 1 Fire Rated Our tests show that when QuietWave® is sandwiched between two layers of 13mm Fyrchek plasterboard, the Sound Transmission Loss (STL) achieves is equivalent to 5 layers of the same plasterboard.
applications
Multi-residential walls and ceilings
Retrofits
High Confidentiality partition wall systems (for Lawyers, Doctors, Dentists, etc)
Commercial walls and ceiling
Improving existing partition wall & ceiling performance
Sole occupancy unit dividing walls
Boardroom and office division walls
---
AcoustiFlex® SQ high performance flexible noise barrier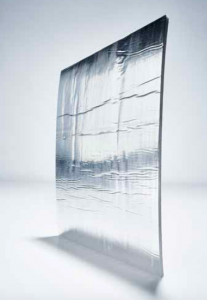 AcoustiFlex®SQ flexible noise barrier is one of the most effective sound solutions for aircraft noise, traffic and railway disturbance.
AcoustiFlex®SQ (formerly known as AcoustiFlex) noise barrier is highly effective against external noise from aircraft, motor vehicles, rail transportation, neighbouring properties and adjoining offices. Greatly reduces noise at construction sites when hung from an overhead structure or draped over temporary fencing. Available as AcoustiFlex® SQ 27, AcoustiFlex® SQ 29 and AcoustiFlex® SQ 31. AcoustiFlex®SQ consists of a flexible micro-cellular membrane bonded to an aluminium facing foil and reinforced polyester backing.
The AcoustiFlex noise barrier has a matching acoustic performance of Rw 27 for The AcoustiFlex® SQ 27 (Wilkinson & Murray test results following page). The AcoustiFlex®SQ has extremely good sound attenuation over the full frequency spectrum. Typically the AcoustiFlex®SQ 27 achieves the equivalent Rw of a competitors 4kg noise barrier, AcoustiFlex®SQ 29 = 6kg noise barrier and AcoustiFlex®SQ 31 = 8kg noise barrier. AcoustiFlex®SQ has been certified by the CSIRO Division of Materials Science an d Engineering as Group 1 Fire Rated.
---
high performance barrier-absorber composite
Applications
Engine rooms in boats under CE Marine Survey
Acoustic and thermal insulation for air conditioning duct work
Acoustic insulation for plenum areas
Power generation units
Machinery and equipment enclosures
Car, boat, truck and bus engine compartment, fire wall and bonnets
---
polyurethane film faced barrier – absorber composite
applications
Engine rooms in boats under CE Marine Survey
Acoustic and thermal insulation for air conditioning duct work
Acoustic and thermal insulation for plenum areas
Power generation units
Machinery and equipment enclosures.
Car, boat, truck and bus engine compartment, fire wall and bonnets
---
perforated faced barrier – absorber composite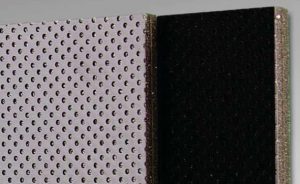 Applications
Cabin lining for trucks, tractors, earth moving equipment
Acoustic enclosures, control rooms and recording studios
Power generation units, machinery and equipment enclosures