Soundproof Doors and Door Seals | Sydney Soundproofing
Reducing the amount of sound that passes through a door set is a common application for Sydney Soundproofing door seals. Sealing door gaps is of prime importance when helping to reduce the amount of sound entering or leaving a room or building. Unlike air, where the amount flowing through a gap changes in proportion to the gap size, sound waves move through these gaps with little loss. Consequently, small gaps around a doorway can let through nearly as much sound as an open door. Because of this, any small clearances not sealed can reduce the effectiveness of a solid core door or acoustically engineered door or partition. Soundproof Doors and Door Seals.
Sydney Soundproofing acoustic seals provide an excellent barrier to airborne sound and help ensure that the acoustic attenuation provided by an acoustically sealed door assembly can in many cases be equivalent to the wall or partition into which it is installed. Soundproof Doors and Door Seals.
Sydney Soundproofing acoustic seals help isolate buildings from external noise, such as the noise generated from roads, railways and airports. They also help isolate rooms from airborne noise generated within a building. For example; plant and machinery, theatres, cinemas, creches, dental and doctors' surgeries, stairwells, passages, interconnection hotel rooms and adjoining apartments.
Soundproof Door Seals
Seals designed to fill the gap between the bottom of a door and the floor underneath, are referred to as door bottom seals. Common forms comprise sweep seals that have an aluminium holder with a flexible strip of rubber or brush strip mounted to the door bottom. They are designed to sweep across the floor or engage a raised threshold plate so they clear the floor as the door opens.
Automatic door bottom seals are mechanically spring loaded seals that lift clear of the floor as the door opens and seal tight when the door is closed. Automatic door bottom seals can be face mounted and some models can be fully concealed. They operate over uneven floor surfaces and like sweep seals can be used with Sydney Soundproofing threshold plates that offer added protection against rain infiltration where doorways may be exposed to more severe weather conditions.
Most Sydney Soundproofing door bottom seals are easily adjusted after installation without removing the door. This ensures an optimum seal is achieved and maximum performance is maintained in the event of minor building movement.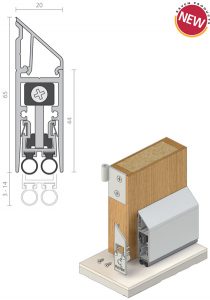 Sound Proofing
Rating





Service Provider
Service